Flying Somewhere? New Airport Guidelines...
By JBeuks and Lizzy K
Oct. 4th, 2006 02:35 pm

 

At

Whet

Travel

, we know you lead a busy life.  We'll continue to keep you in the know with new and interesting stories and news that young jet-setters like us need to know in today's

travel

world.  

  

There's new guidelines that have been issued by the Transportation Security Administration, so here's the deal with new airport security screening.

I've flown to Chicago, Vegas and Jacksonville over the last 3 weeks.  To save time, I HATE checking bags unless I absolutely have to, so on the first flight, they took EVERYTHING.  My deodorant, shaving cream, shampoo, hair stuff, lotion, mouthwash, etc. and let me keep my razor...go figure.  The next week they changed the rules to allow all of these things in a clear plastic bag.  MAKE SURE the bag is the right size.  It sounds silly, but they were hastling people where the clear plastic bag was not the EXACT size specified.  Quart size and SEALED (ziplock).  If you forgot one, put your makeup and stuff in your pocket as the metal detector won't go off.  You will see people frantic in line trying to figure out what to do to get their makeup and stuff through.  Just make sure you don't set off the metal detectors and get the full strip down.  Belts seem to be what people most forget.  Wear slip on shoes with thick socks if possible because you will have to take them off.  If you wear sandals, you will be walking barefoot where ten million other people and other bare feet step...yuck.

 

Then the one time I finally cave in and check my luggage on the way home from Vegas...what happened?  Yup, they LOST my fricking luggage and had to deliver it the next day!  Welcome to flying in America in 2006!!  

 

Jason Beukema,  

 

ISSUED BY THE TRANSPORTATION SECURITY ADMINISTRATION

 

New guidelines have been implemented by U.S. Federal Authorities regarding small liquid and gel toiletry items that may be brought on board for most domestic and international flights. 

For

travel

within the United States , passengers may bring

travel

-sized toiletries (3 ounce container or smaller) through the security checkpoint.  Items must fit in one, quart-size, clear plastic, zip-top bag that seals tightly and is subject to inspection separately from other carry-on baggage (see example below).  Examples of such items are lotion, mouthwash, perfume (again,

travel

sized bottles), shampoo & conditioner, toothpaste, etc.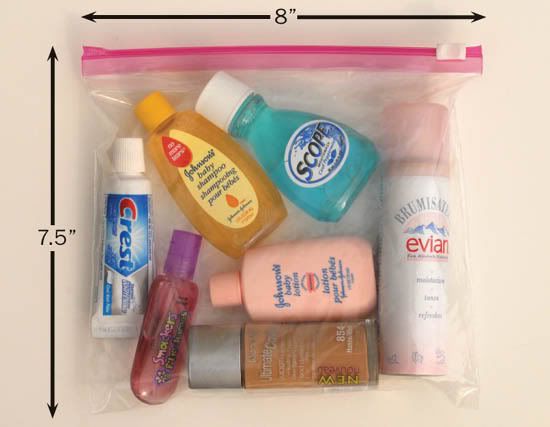 Exceptions to the liquid / gel carry-on allowance is breast milk/baby food/fruit juice (if a baby or small child is traveling), prescription medications (with proper documentation from MD), essential non-prescription medicines (including eye card products such as eye drops and contact lens solutions - no more than 4 ounces) and tangible items purchased from duty free shops. 
Beverages and other items purchased in the secure area of the terminal are also allowed onboard (no more ditching your coffee before that 6:30 am flight!).

For detailed information regarding these new regulations or for detailed information on International Travel, visit the Transportation Security Administration online. 
Whether you've already planned your next exciting vacation with us or are still dreaming up the ideal trip,

Whet

Travel

's certified

travel

consultants are here to make sure your

travel

is effortless and free of complications!   See you on the beaches!